For those of you who have read 'The Bitches' you know we lust after bold, sexy, big…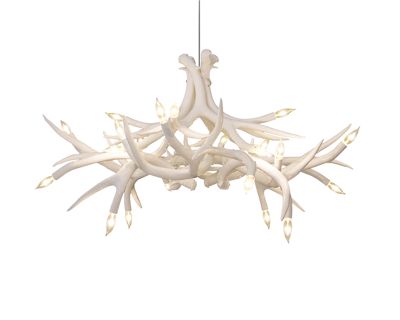 …chandeliers.
While we're infatuated with enormous antler-inspired light fixtures, we can't have them. They're way too big for our space, too pricy for our budget and would require an entire home makeover to fit in.
Sooo…
…we went on the hunt for substitutes because we believe that little things, when used correctly, can still keep a girl satisfied. We've found an array of faux horny things sure to please:
While not illuminating this cardboard head is dear to us.
This wall mounted coat hanger is a complete turn-on.
Ballard Designs, (one of our go to catalogs for good looking home accents), is selling a knockout collection by Susan Kasler.
Of course, a gal on a budget could brave the woods* and collect her own trophies.  After all, those big bucks freely shed their wares.
*(Just make sure the woods you pick allow you to legally collect shed antlers.)