Mother's Day is right around the corner and we're here to help with five simple ideas she's sure to love.
1. Herbs
Whether your mom lives in an apartment or on in the country, nothing spices up a meal more than fresh herbs. Arrive with shovel in hand ready to plant them for her in the garden or in a window box. (Make sure your assortment includes lemon verbena so she can brew the best herbal tea ever.)
2. Melitta Coffee Cone and Filters
The single best cup of the day is the first cup. The simplest and best coffee is made using this $2.99 Melitta cone. Period. (So reasonably priced you'll have enough left to spring for designer coffee beans and a gorgeous new mug!)

3. Hip New Nail Polish and Manicure
Give her a manicure because on Mother's Day she shouldn't be lifting a single well polished digit. While the $14.00 price tag is high for nail polish, we're obsessed with the hip colors and no chemical 'nasties' formulary from Butter London.

4. A Massage (Mom is Worth the Splurge)
As every mother knows, there is not a day that goes by without worry about her little (or big) darlings. Today's your day to take the stress off her shoulders (you are responsible for it, after all). Spring for a gift certificate for a long relaxing massage.

5. A Book or Magazine Subscription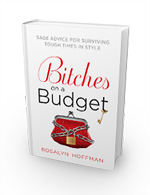 Is your mom a romantic, a cook, a bird watcher, a travel fanatic, a quilter, hiker, sewer, basket weaver? Whatever her passion, interest or budget– there is a book or magazine that will thrill her. Of course, if your mom hasn't read Bitches on a Budget it's time to get her, her own copy. We're also crazy for new cookbooks like Pasta Sfoglia and Stir; novels like Olive Kitteridge and The Three Weissmanns of Westport; magazines like The New Yorker, Vogue and Real Simple. (And, if your budget allows, consider giving them to her on a new i-Pad or Kindle!)